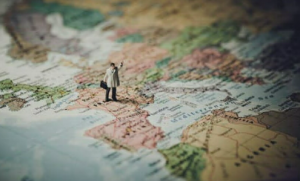 Michael Palin – "So many of the world's current issues – at a global scale and locally – boil down to geography, and need the geographers of the future to help us understand them. Global warming as it affects countries and regions, food and energy security, the degradation of land and soils from over-use and misuse, the spread of disease, the causes and consequences of migration, and the impacts of economic change on places and communities."
At All Saints we believe that Geography is indispensable to the understanding of the modern world. We aim to encourage a lifelong interest in the world.
How is Geography a sacred subject?
Geography enables all learners to experience the beauty, awe and wonder of God's world and to develop an awareness of their place in it. All places and spaces have a history behind them shaped by humans, location, climate and politics. Geography gives us a spatial awareness of the globe and serves to form respectful attitudes that serve to remind students that we are stewards and not masters of creation. Theological influences help us to shape the cosmological understanding of the world as we recognise that we are a global community with a global interdependence, accountability and responsibility for the common good of all people. Stewardship must reflect our understanding that the planet is our irreplaceable home.
Key Stage 3
Students in Years 7 to 9 follow the National Curriculum.
We aim to deliver a broad and diverse KS3 curriculum, which consolidates and extends students' geographical knowledge and understanding, develops greater competence in using geographical knowledge, approaches and concepts and geographical skills in analysing and interpreting different data sources. In this way students will continue to enrich their locational knowledge and spatial and environmental understanding.
Key Stage 4
Students follow the 2-year GCSE Geography course (AQA). The course is based on a balanced framework of physical and human geography.
Students deepen their knowledge and understanding through the exploration of a range of case studies in the UK, HICs, LICs and NEEs. Topics of study include climate change, poverty, deprivation, global shifts in economic power and the challenge of sustainable resource use. Students are also encouraged to understand their role in society, by considering different viewpoints, values and attitudes.
Key Stage 5
Students follow a 2-year A Level course (AQA). The course provides a balance of new and traditional human and physical units. It is designed to excite students' minds, challenge perceptions and stimulate their investigative and analytical skills.
Extra Curricular
Students in all Key Stages are given the opportunity to carry out fieldwork outside of the classroom and to explore their local environment.
GCSE students visit Dalby Forest and Leeds. A level students visit the North York Moors, the Yorkshire Wolds, Scarborough and the East coast.
Students are encouraged to get involved in activities such as the school LEAF club addressing environment issues and lectures at the York Branch of the Geographical Association.
Main Programmes of Study
KS3
Y7: Water cycle and river networks| Map Work | Settlement | Coasts | Wider Economic World I UK sense of place
Y8: Climate and Ecosystems | Development | Energy and climate change | Antarctica
Y9: Population | Tectonic Hazards | India I Urbanisation and sustainability | Tropical Storms | Geographical Skills
KS4
GCSE (AQA specification)
Paper 1: Living with the physical environment: The challenge of natural hazards | The living world| Physical landscapes in the UK
Paper 2: Human Topics: Urban issues and challenges | The changing economic world| The challenge of resource management
Paper 3: Geographical applications: Issue evaluation, Fieldwork and Geographical skills
KS5
A Level (AQA specification)
Component 1: Water and carbon cycles | Coastal systems and landscapes | Hazards
Component 2: Global systems and global governance | Changing Places | Contemporary urban environments
Component 3: Geography fieldwork investigation (Submitted to the exam board)
All units also include the development of a wide range of geographical skills, including cartographic, graphical, enquiry and ICT skills.