Creativity comes in many forms, so we offer exciting opportunities and diverse courses to our young artists. We have pathways in place to ensure pupils who want to explore creativity further or have designs on a career in the Creative Arts, have an engaging next step to progress to. The All Saints Art & Photography Department invests heavily in KS3 pupils, as they are our GCSE and A Level students of the future.
We have a history of students achieving their creative ambitions after All Saints. Many have left us to study degrees in architecture, costume design, fashion photography, fine art, illustration, graphic design, puppet making, games design and other exciting careers in the creative arts. We enjoy hearing from them as they carve a career for themselves and become the creative professionals they aspired to be. Hard work and determination really do make a positive difference on outcomes.
How is Art and Photography a sacred subject?
Art and Photography is a spiritual encounter exposing the learner to a profound level of communication and expression which transcends the spoken word, it offers the artist and the other observer the opportunity to transcend the here and now. Through artistic expression the learner is enabled to comment on profound social issues and spiritual experiences offering a window into God's divine creation. Art and Design, incorporating a wide variety of craft and design embodies some of the highest forms of human creativity.
24/7 online support and inspiration
Our Instagram  celebrates student success every day and enables KS3 pupils see what our KS4 and KS5 students are working on. This virtual link has inspired many KS3 pupils to study Art and Photography further, as well as attracting attention from professionals who follow our progress and engage with us on many levels.
We also have over 2,500 student outcomes on Flickr – this extensive online resource helps students develop their ideas in their own time, understand the linear progression of a project and find inspiration when needed.
Extensive Provision
Students can explore drawing, painting, photography, video, animation, sculpture, audio and 3D during their courses and there is a lot of creative overlap between disciplines. Our extensive and professional provision enriches student experience and really boosts their interview portfolios. We offer a wide variety of methods for our artists to make their mark and convey their message.
We have traditional darkroom facilities on both sites, as well as professional etching presses and two kilns for ceramics. On upper site we have three bookable photography studios, a light and spacious A Level studio, assorted specialist lighting, portable video projectors, sound recorder, and two dedicated computer suites… you can see why many of our students see the Art department as their second home.
Most important of all, however, is our team of dedicated and experienced staff. We work very effectively as an innovative team to ensure all of our students explore their creativity to the full. Our technician is qualified to degree level in the arts and offers expert help and advice across all disciplines. It really is the perfect place to achieve your personal best, surround yourself with like-minded people, and exceed your expectations.
Celebrating Personal Success
As well as posting daily developments on our popular Instagram, we showcase our A Level portfolios in our end of year show. We have attracted generous sponsorship from local companies for several years, allowing us to curate an impressive and professional exhibition in our studios, featuring work of varied scales and media,
KS3 Art & Design – building confidence
When our new pupils arrive in Year 7, they sometimes haven't done lots of artwork due to regular tests and exams at their Primary School. Our first aim, therefore, is to help them fall in love with art again! They enjoy one hour of art per week with a specialist teacher, and begin with a Foundation Course to sharpen skills that may be a little rusty, and learn new ones as their confidence grows. We investigate mark making by designing fantasy creatures, colour theory using Kandinsky's exciting abstracts, observational drawing, paint mixing, critical studies and effective annotation. We then apply these new skills in completing challenging projects when they are fully equipped and primed for success.
Through KS3 we deliver diverse projects covering a range of disciplines. Titles such as Perspective, Portraiture, Cubist Still Life, Multicultural Collage, Clay Pinch Pots, 9/11 investigation and other workshops. We adapt our projects to challenge the individuals we teach, as we creative types need the freedom to explore ideas and try new processes along the way.
Independence – unleashing personal creativity
We structure homework time for maximum impact and personalisation. Independent projects run parallel to class projects to give students the opportunity to be very ambitious. For example, in Y8 when students are being trained to draw using 2 and 3 point perspective, they produce an independent project on architecture, Students choose their favourite structures to research from around the world, draw some of them, learn about the architects and then design their own unique building with a chosen function. We received submissions using Minecraft, digital editing, 3D modelling, photography and a range of other media. Students took advantage of the creative freedom and showcased their ambition. Many have already decided to join our GCSE art course in the future after realising their potential through these independent projects.
GCSE Art
This is an excellent step towards the Creative Arts and offers a chance to explore artistic strengths and personal interests. We support students with drawing, painting, Photoshop editing, collage, sculpture, photography, animation, and printmaking, as well as teaching research, presentation, and time management skills. Many of these skills will help secure success in other subjects too.
In addition to one comprehensive coursework project addressing al four assessment objectives, students embark on a personal project of their choice. This can be based on virtually anything – Gaming, Horror, Sport, Horses, Vintage Collage, Fashion Photography, Warhammer, Harry Potter, Abandoned Buildings, Manga, Stranger Things, Las Vegas and NASA have all been successful project titles devised by our GCSE students. Students who have enjoyed the sculptural elements of KS3 often further develop their 3D and construction skills to their advantage and create ambitious outcomes.
Many students continue on to study A Level and then go onto university, leading to careers in advertising, animation, architecture and interiors, car design, illustration, gaming, fashion, film and TV, fine art, graphic design, photography, teaching and web design.
KS5 Courses
Many of our students choose to study Art and/or Photography at Sixth form and enjoy the familiarity. We also attract many students from other schools across York and the surrounding areas. We enjoy meeting our new groups each year, and the mix of All Saints and external students brings new ideas and approaches. Lively creative debate and shared ideas!
A Level entry requirements:
You must achieve a grade 6 or above in GCSE Art to access our A Level Art course.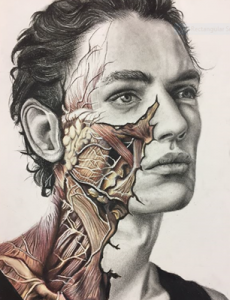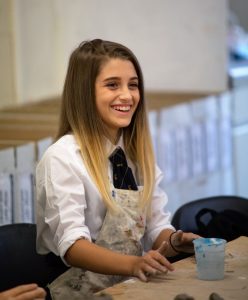 You must achieve a grade 5 or above in GCSE Art to access our A Level Photography course.
A Level Art
This course challenges and excites creative students and enables them to make meaningful outcomes exploring drawing, painting, printmaking, photography, digital media and sculpture. We have a spacious art studio with a professional etching press and a range of professional equipment, and the all-important dedicated Sixth Form study room tucked away near their studio.
We tailor our delivery to the needs of the individual using one-to-one tutorials, enabling us to stretch students' understanding and technical ability. Students also learn from each other and share ideas through regular group discussions and presentations.
Projects are personalised to our students' interests where possible and at the start of Year 12 they're given choices regarding media and influences. Titles such as Anatomy, Portraiture and The Natural World lead into specific themes to study and use to generate a personal response. These initial studies develop and expand into mature, personal investigations, culminating in accomplished outcomes. In the first year of the course students complete two projects, one of which is run as a rehearsal exam to prepare them for the second year of the course. Guidance is always available from our experienced staff.
Successful first year projects can form the start of the coursework unit, submitted at the end of the second year. An essay, based on the personal investigation theme to show a broader understanding of the concepts involved, accompanies the coursework unit. The exam unit is set by AQA and offers several starting points to choose from and develop creatively. A preparatory period is followed by 15 hours of supervised time to produce personalised final outcomes.
This course successfully prepares students for direct entry onto an Art Foundation Course and a range of creative Degree courses such as Architecture, Graphic Design, Illustration, Set Design and Printmaking.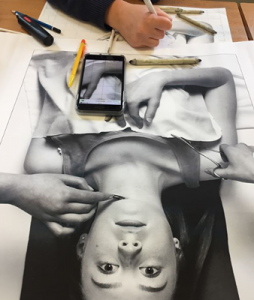 A Level Photography
Our course trains students in the art of digital and traditional image making. We have a photography studio with six professional backdrops, Photoshop, a range of digital cameras, lenses, filters audio recorders and a traditional darkroom.
Students first create an exciting sketchbook exploring the use of digital cameras, lenses and equipment used in the production of successful photographs. Assignments such as structure, the mechanics of still life, self-portraiture, dynamic portraiture, landscape, collections and digital editing run alongside technical workshops looking at depth of field / shutter speed and editing. All assignments involve a critical studies element to enrich outcomes and give context.
Students go on to develop a sustained personal investigation and have full ownership of this. The bulk of the research and photo shoots are completed over summer and the investigation is completed in Year 13 as coursework, accompanied by an essay. The essay is based on the personal investigation and shows a broader understanding of the concepts involved. The exam unit, set by AQA, offers many starting points to choose from and develop creatively. A preparatory period is followed by 15 hours of supervised time to produce final outcomes. We all want to see the students at their best, so guidance and time are plentiful.
This course successfully prepares students for direct entry onto a range of lens based and Photographic Degree courses, and offers skills for life!
Hopefully this has given you a flavour of our department and you are seeing yourself fitting in just fine. In our experience, students are even better than they realise so let's work together and unleash your creativity… we're ready when you are!